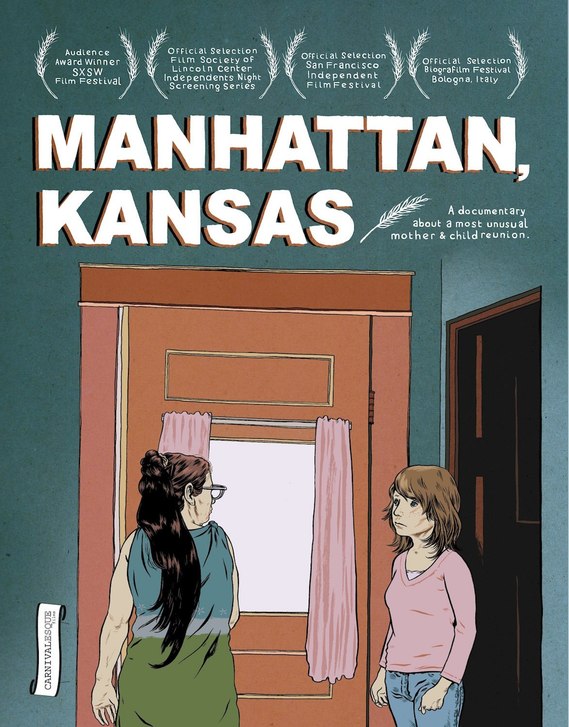 Manhattan, Kansas
Written and directed by Tara Wray
Cinematography Michel Negroponte & Randy Bell
Produced by Alan Oxman & Michel Negroponte
Edited by Cindy Lee
color, 78 min, 2006
Distributed educationally by DER
The parent-child relationship is emotionally charged from the moment a person is born, but it becomes especially complex when your single parent is mentally unstable, as is the case for filmmaker Tara Wray.

In her first film, Wray travels to rural Kansas in an attempt to reconnect with her mother, Evie, for the first time since Evie's psychotic breakdown five years earlier. She finds a parent still chasing her demons, both real and imagined, struggling to make a career for herself as an abstract artist and searching for the Geodetic Center of the United States, the finding of which, Evie says, will bring about world peace.
When Tara takes it upon herself to help in her mother's search, it sets into motion a surprising chain of events that may just rescue Evie from a catastrophic fate and help Tara reconcile with her mother on different terms.
color, 78 min, 2006
Selected Screenings
SXSW Film Festival, Austin, TX (World Premiere)

Independents Night Film Series, Lincoln Center, NYC

Colorado Public Television (KBDI-TV/12), Denver

The Documentary Channel; screening 2009-2012

Oktostop Austrian Television, Vienna, Austria

Docúpolis Film Festival, Barcelona. Spain

PBS affiliate KPTS, Wichita, KS

Regular Company Films, Zagreb, Croatia

India International Women's Film Festival, New Delhi

Biografilm Festival, Bologna, Italy

Maine International Film Festival, Waterville, ME

Camden International Film Festival, Camden, ME

Port Townsend Film Festival, Port Townsend, WA

Jackson Hole Film Festival, Jackson Hole, WY

Idaho International Film Festival, Boise, ID

Wisconsin Film Festival, Madison, WI

White River Independent Film Festival, WRJ, VT

Brooklyn Arts Council 41st Int'l Film Festival, NY

Tallgrass Film Festival, Wichita, KS
Manhattan, Kansas is a touching portrait of [Wray's] tumultuous relationship with her mentally unstable mother; never self-indulgent, the film shows Wray unabashedly exhibiting her frustration with and love for her mother, in the process creating a story about self-healing and moving on that many will relate to." - Filmmaker Magazine

"Manhattan, Kansas is an evocative personal documentary...that unfolds with increasing resonance; a poetic, universal journey." - Utne Reader
"Simple and direct - and emotionally blunt and affecting - Manhattan, Kansas acknowledges that love abides, even when forgiveness is not always easy or possible." - Film Society of Lincoln Center

"It's an honest look at growing up and letting go … it's everything a personal documentary should be." Marrit Ingman, - The Austin Chronicle

"Insightful and moving." - Bob Green, Honolulu Weekly

"Manhattan, Kansas is dealing with some big ideas, taking the "home movie" documentary genre and asking us to rethink our concepts of home and family in some fairly profound ways." - Chuck Tyron, The Chutry Experiment

"Anyone who's ever struggled through a long-standing family rift, only to come back together in tentative fashion, should appreciate Tara's low-key and no-frills approach to storytelling. Her self-deprecating attitude only serves to amp up the 'reality' of the tale. This is not a filmmaker aiming for a huge sweeping statement, but a girl with a camera hoping to reconnect with one lonely parent. The "smallness" of Manhattan, Kansas is what makes the film so engaging." - Scott Weinberg, eFilmCritic.com

"Manhattan, Kansas is a great movie. I can't wait to watch it." - My mom